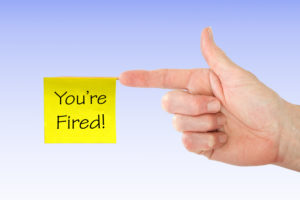 Discipline for AWOL: Show up for work or face the consequences
Thinking about taking leave while your leave request is still pending?  Think again or face discipline for being absent without leave (AWOL).
What is AWOL?
AWOL means that you are absent from work without your employer's permission – it's an unexecuted absence.  The length of the absence doesn't matter. You can be AWOL if you show up an hour late or if you don't come to work for a week.  Employees may be charged with AWOL in many circumstances. Here are some examples that qualify:
You failed to make a request before going on leave.

Your leave request didn't comply with your employer's policies and procedures.

Your employer properly denied a leave request.

You failed to report to work during work hours.

You were at work but left your workstation without permission.

Upon returning to work after approved medical leave, you failed to provide medical documentation supporting your absence.
AWOL is considered workplace misconduct.
Do employees who are AWOL have rights?
AWOL is considered workplace misconduct, and your employer can punish you for being AWOL.  If you're a private-sector employee, you may not have any rights if you're AWOL. At-will employees can be fired for any reason —including AWOL.  However, your employer may have a policy that addresses misconduct and discipline.  Depending on the policy and how strictly your employer enforces it, a single incident of AWOL may not be a fireable offense.
On the other hand, most federal government employees have the right to advance written notice and a chance to respond to certain disciplinary actions, such as suspensions of more than 14 days, demotions, and removals.
For example, before suspending you for 30 days, your federal employer must give you a notice of proposed discipline that states you are charged with AWOL for being absent on specific dates.  You would also have the right to respond to the notice and your employer's evidence before you can be punished for AWOL. If you are suspended, demoted, or removed for being AWOL, you may be able to file an appeal with the U.S. Merit Systems Protection Board (MSPB).
How can an employer prove AWOL?
Evidence of AWOL may include any number of things, such as statements from coworkers or customers who said you weren't at work.  Security camera footage and swipe records can also show when you entered and exited the work building. Companies who allow telework can track when employees logged into or out of work email and intranet.  Similarly, an employee's repeated failure to promptly respond to emails or phone calls may support AWOL charges.
What is LWOP and how is it different?
AWOL issues often arise when an employee who has a disability requests leave without pay (LWOP).  LWOP is an excused absence from work. Even though you aren't being paid, you can't be disciplined for being AWOL if you're on LWOP.  However, employers have the right to deny LWOP requests. For example, if you request LWOP for a medical reason, your employer can lawfully deny your request if you fail to provide sufficient medical documentation.
What can employees do to prevent being AWOL?
In short, follow your employer's leave procedures, and get approval for absences.  Submitting a leave request isn't enough. Asking for approval isn't the same as getting approval.  Ask for leave as early as possible. And ask in writing, even if your employer doesn't require you to do so.  Make sure you have documentation of the approval of your request. If your supervisor verbally approves your leave request, follow up with an email to confirm the approval.
What should employees do if they're AWOL?
Although they aren't required to do so, many employers will cut you some slack if you're AWOL due to an emergency or something that's out of your control.  If you have an emergency, contact your supervisor as soon as possible to let him or her know what is happening and when you can report to work. If you can't provide written notice, follow-up in writing, or at the very least, write yourself a detailed note about when you contacted your boss.  And if you are AWOL, don't submit a timesheet saying you were at work. Claiming pay for work you didn't do is a serious offense.
Are you facing discipline for time and attendance issues?
If you are facing discipline due to AWOL, failure to follow leave procedures, or other time and attendance issues, we can help.  We will work with you to evaluate your case, discuss your options, and develop a strategy to assert your rights. Contact us today to speak with an experienced employment attorney.  Alan Lescht and Associates represents state and local government workers and private-sector employees in Washington, DC, Maryland, and northern Virginia, and federal government employees around the world.
This post was originally published on September 12, 2017, and was updated on December 2, 2019.