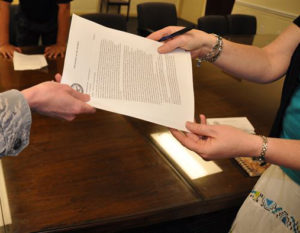 By sending a Notice of Proposed Removal, your agency is informing you that it intends to terminate your employment. As a federal employee, you have rights. You have the right to show your agency why your removal is unreasonable or unwarranted under the circumstances. It is critical to act quickly.
What are the timelines after a Notice of Proposed Removal?
Unless an employee is believed to have committed a crime, federal agencies must provide a minimum of 30 days notice to any employee who is being removed. Furthermore, the employee must have a reasonable time frame (at least seven days) to respond to the notice. Employees also have the right to an attorney. An attorney will be critical in presenting the strongest possible case in your support.
If an agency removes me, what do I do next?
Federal employees can appeal a removal. Most appeals go through the Merit Systems Protection Board (MSPB). Depending on the circumstances, employees can appeal through the EEO or through a collectively-bargained grievance procedure. An appeal to the MSPB will involve discovery, in which you will have the opportunity to request documentation surrounding your removal and refine arguments in support of your position. Depending on the facts, these arguments could include:
The agency made a harmful error in applying its procedures
You were fired due to discrimination or on the basis of retaliation for whistleblowing
The penalty was excessive, disproportionate or otherwise unreasonable.
You will then have the opportunity to present your case in a hearing before an administrative judge. After getting a Notice of Proposed Removal, your choice of lawyer is a critical decision. With decades of experience in the field of federal employment law, the lawyers of Alan Lescht & Associates have successfully represented federal employees facing all types of actions, including removal. Our firm is ready to begin exploring all potential defenses to your removal. Call 202-463-6036 to schedule a consultation.