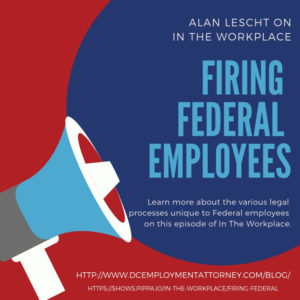 Alan Lescht was recently a guest on Business Radio's "In the Workplace," hosted by Peter Cappelli, George W. Taylor Professor of Management at The Wharton School and Director of Wharton's Center for Human Resources, and Dan O'Meara of Ogletree Deakins. The program is sponsored by The Wharton School.
In this episode, "Firing Federal Employees," Alan discusses the differences between the public and private sector, and the types of issues federal employees face.
"Federal service is built on due process," Alan says. "Federal employees can be easy targets." And, there have been recent efforts to shorten the due process window, allowing employees less time to defend themselves.
During their probationary period, which can last up to two years, federal employees can be fired at will, like private-sector employees.  After that probationary period expires, however, federal employees have unique due process rights. Managers must put in writing any proposal to discipline, suspend or remove a federal employee, and the employee has the right to respond, with the benefit of legal counsel. This proposal is thenreviewed by a higher-level manager in the department. "Direct managers are not allowed to serve as judge and jury" over federal employees, Alan says.
Since even reprimands, counseling memos and warnings go into an employee's permanent employment file, it's important to present a proper defense to any proposed discipline. Federal employees are allowed to see all the evidence presented to support the proposed discipline, and are allowed to counter it with their own evidence, respond in writing, and have the right to an in-person meeting to argue their case. When accompanied by legal counsel, many employees find it's possible to successfully fight the proposed discipline, suspension or removal.
"Our law firm also represents federal employees in EEO discrimination cases, where they have been denied promotions, or not selected for open positions, because of their race or other status," Alan says. "Unfortunately, we are seeing an uptick in cases involving age discrimination and claims involving employees with disabilities who may need an accommodation in the workplace.
"We also handle cases for federal employees before the Merit Systems Protection Board, and help employees who have issues with their security clearances."
In the same way a federal employee might have a long probationary period, security clearance issues can surface for employees or government contractors years after they start their positions. Increasingly,employees of government contractors are embedded in federal agencies. Employees often get conditional job offers, accept, move, and then issues arise with their clearance months or even years later.
Alan Lescht is the founder and Managing Shareholder of Alan Lescht and Associates, P.C., a 13-lawyer plaintiff-side employment law firm in DC where he oversees the firm's federal government employee and private sector practice. He's long been recognized as one of DC's leading employment lawyers and has won many trials, including the politically charged MSPB case of Weller v. GSA, where Alan won a hearing that secured reinstatement and backpay on behalf of a GSA director who was swept up in charges following the agency's Western Region convention.
"We've been successful in responding to questions about clearances and helping federal employees keep their jobs," Alan says.
If you are a federal employee facing possible discipline, have issues with a security clearance, or believe you are being discriminated against the workplace, Alan Lescht & Associates can help. Contact us at (202) 463-6036 or visit us at www.dcemploymentattorney.com.