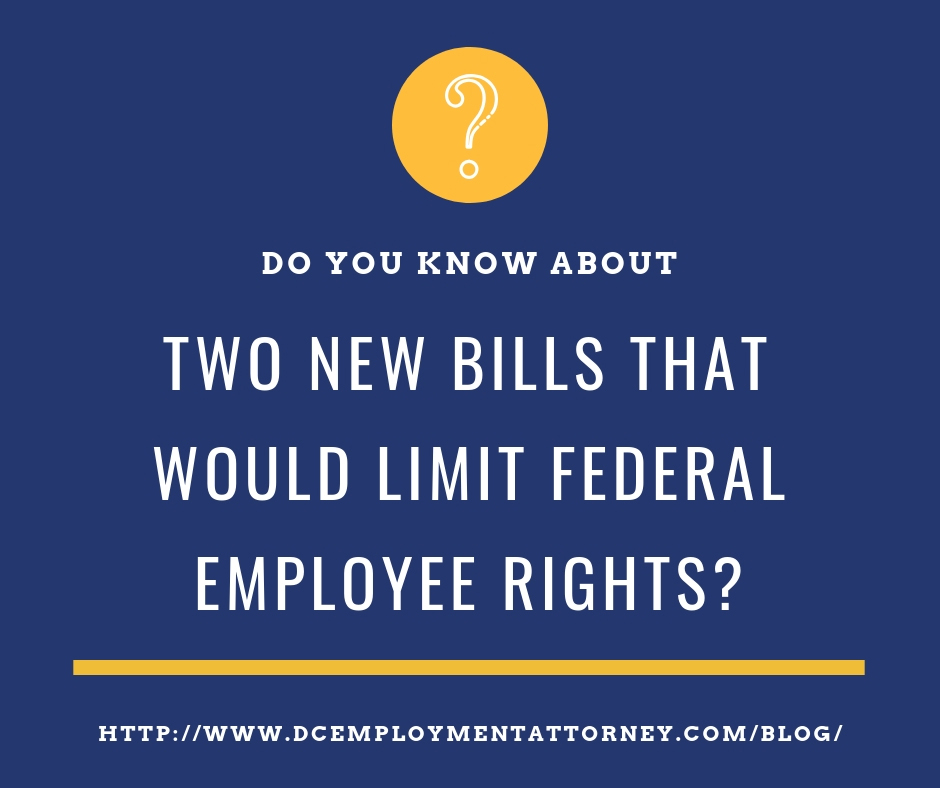 On July 17, following up on President Trump's executive order in May, the House Oversight and Government Reform Committee continued the current Administration's assault on the rights and due process protections of federal employees.  The Committee has passed two bills, the Merit Systems Protection Board Reauthorization Act (MSPBR) and the Modern Employment Reform, Improvement and Transformation Act (MERIT), which would make it easier for federal agencies to remove employees but more difficult, and costly, for employees to defend themselves.
The first bill (MSPBR) would have a drastic negative impact on the rights of federal employees by:
Eliminating employees' right to an opportunity to demonstrative successful performance before being terminated following notification by the agency that the employee's performance has slipped below the acceptable level;
Reducing the notice period required before an employee can be terminated from 30 days to 15 business days;
Reducing the time period for an employee to response to a proposed disciplinary action to a maximum of 7 calendar days;
Limiting the time period for an employee to appeal a removal from 30 days to 10 business days; and
Increase the probationary period for employees to 2 years.
Currently the law provides federal employees a minimum of 7 days to respond to proposed adverse actions, but in most cases, employees request, and the agencies grant, reasonable requests for extension of time. The shortened time period for an employee to respond included in this bill will mean that agencies can spend months investigating an employee, preparing a voluminous record and drafting a detailed proposal for disciplinary action but the employee would have no more than one week to respond. Such a significant disparity in time is not only unfair to employees but also harmful to the agencies. By limiting employees' ability to defend themselves against allegations of misconduct, the Agencies will act without a full understanding of the facts. Put plainly, agencies will make more bad decisions that are overturned upon appeal, costing the federal government more in the long run.
The bill would also take away an employee's opportunity to demonstrate improvement after being notified that the agency believes the employee's performance was failing.  Without such protection, employees can be fired without any warning that their performance was deemed unsatisfactory. Federal managers already have a significant amount of discretion in regard to assessing performance, with their decisions requiring a lower burden of proof on appeal. Removing an employee's opportunity to show improvement will give nearly unlimited power to federal managers to remove employees under the guise of poor performance. This will increase the likelihood that such authority is abused for purposes of retaliation and discrimination.
These changes, as well as the reduced time to appeal and the increase in probationary period lengths (during which employees have significantly limited rights), will curtail employee rights and make it substantially easier for agencies to fire employees.
The second bill (MERIT), focuses on making it harder for swiftly removed employees to appeal the action by:
Imposing a filing fee for federal employees to file an appeal before the MSPB;
Implementing a procedural option for Summary Judgment thereby limiting employees' right to a hearing;
Effectively eliminating the ability of the MSPB to mitigate an unreasonable penalty issued by an agency; and
Substantially reducing the evidentiary burden that an agency needs to meet in order to discipline an employee.
Requiring employees to pay a filing fee of up to $400 to file an administrative appeal to the MSPB will almost certainly deter some employees who have been wrongfully terminated from filing an appeal.  Most appeals at the MSPB are filed 'pro se', or without an attorney, usually because the employee cannot afford to hire an attorney.  A filing fee will further stack the deck against federal employees and makes it easier for federal agencies to take frivolous actions against employees, particularly low-income employees who don't have the means to pay the filing fee while also facing the prospect of months of unemployment.
The filing fee would also have a chilling effect on whistleblowers facing retaliation, who after filing a complaint with the Office of Special Counsel, have the option to pursue their retaliation claim before the MSPB.  Once again, this will have a disproportionate effect on lower income employees, who are already less able to afford legal representation to assist them in protecting their rights.
The bill would also give the MSPB the procedural option to issue decisions without holding a hearing, denying employees the right to confront their accusers.  While employees already have the ability to waive their right to a hearing, where confrontation of witnesses isn't necessary, this change would result in federal agencies filing motions to decide cases without a hearing in almost every single appeal – thereby increasing the costs to the employee, creating more work for the MSPB Judges and further delaying the appeal.
The bill also limits the already circumscribed power of administrative judges to mitigate penalties where the Agency's penalty choice is beyond the bounds of reasonableness to cases where it is "so disproportionate as to be wholly without justification."  However, in those cases where there is no justification for the action, then it will be reversed and mitigation would not be necessary in the first place, thus the bill is actually eliminating mitigation for all intents and purposes.
This administration and this Congress continue to scapegoat and attack federal employees and these misguided bills are a blatant attempt to roll back the rights afforded to our civil servants.  We hope for the sake of hardworking federal employees everywhere that these bills do not become laws.