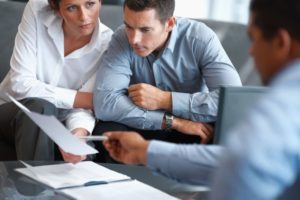 Media outlets have published numerous articles about people being fired for their participation in the recent riots in Washington, DC.  American employees are quickly learning that participating in certain activities —even outside the workplace— may affect their employability.  This is particularly true for federal employees and job applicants.  In most cases, you can't get a federal job unless the government deems you "suitable."
Which government positions require a suitability determination?
The following types of federal government positions require suitability determinations:
Competitive service positions
Excepted service positions that can be noncompetitively converted to competitive service
Career appointments to the Senior Executive Service (SES)
Who makes suitability determinations?
The Office of Personnel Management (OPM) and other federal agencies can make suitability determinations.
How does the government determine suitability?
The government can find an individual unsuitable for federal employment for any of the following reasons:
Misconduct or negligence in employment
Criminal or dishonest conduct
Material, intentional false statement, or deception or fraud in examination of the appointee
Alcohol abuse, without evidence of substantial rehabilitation
Illegal use of narcotics
Knowing or willful engagement in acts or activities designed to overthrow the U.S. government
However, determinations are fact-specific.  The government will consider the following factors in determining whether the presence of any of the above reasons make someone unsuitable:
Nature of the position the person is applying for
Nature and seriousness of the conduct
Circumstances surrounding the conduct
Recency of the conduct
Age of the person involved at the time of the conduct
Contributing societal conditions
Absence or presence of rehabilitation or efforts towards rehabilitation.
Can the government challenge suitability of current employees?
Yes.  OPM and other federal agencies may initiate a suitability action at any time.  OPM must give current federal employees written notice of the proposed action, access to the evidence against them, and an opportunity to respond to the charges in writing.  You may hire a lawyer to help you respond.
Successful suitability cases
We regularly get calls from federal employees and applicants with questions about suitability.  Our firm has helped numerous clients respond to proposed negative suitability determinations.  Here are a few recent examples of our successes:
DHS: Misconduct, criminal conduct, and false statements
Our client left her job with the U.S. Social Security Administration (SSA) to accept a position with the U.S. Department of Homeland Security (DHS).  However, OPM proposed to issue a negative suitability determination based on charges of misconduct or negligence in employment; criminal or dishonest conduct; and material, intentional false statement, or deception or fraud in examination or appointment.  OPM alleged that our client improperly used government systems to locate friends and acquaintances when she worked for the SSA.  We submitted a comprehensive written response, which demonstrated that our client did not leave SSA under unfavorable circumstances because she had already been planning to move across the country.  OPM agreed with our arguments and evidence and found our client suitable for federal employment.
GSA: Drug and alcohol use
Our client is a General Services Administration (GSA) employee.  He has an excellent performance record and is well-respected by his supervisors and colleagues.  However, GSA proposed to find him unsuitable for federal employment after he self-reported prior alcohol and marijuana use.  We reviewed the GSA's supporting documents, collected our own evidence, and prepared a comprehensive written response to the charges.  As a result, the GSA quickly found our client suitable for continued federal employment.
How can an employment attorney help me with federal suitability?
If you're applying for a federal job or the government is questioning your suitability, it may be helpful to consult an employment attorney.  An experienced employment attorney can advise you about completing the eQIP and answering background investigation questions.
If the federal government proposes to find you unsuitable, Alan Lescht and Associates, P.C., can help.  Our attorneys will work with you to respond to the charges against you and gather evidence of mitigating conditions.  We represent federal government employees and contractors in matters involving suitability for federal employment.
This post was originally published on February 19, 2017, and was updated on January 25, 2021.