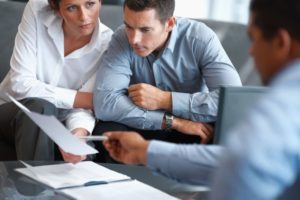 We posted a news update last week about how Trump's hiring freeze will affect new federal employees who have not yet been deemed suitable for employment. Read below to learn more about suitability determinations.
Who is required to undergo suitability determinations?
Positions requiring a suitability determination are those in the competitive service, positions in the excepted service where the employee can be noncompetitively converted to the competitive service, and career appointments to a position in the Senior Executive Service. The Office of Personnel Management (OPM) is tasked with making suitability determinations for new federal employees.
Making suitability determinations
The following factors are considered in determining whether an individual is suitable for federal employment:
Misconduct or negligence in employment;
Criminal or dishonest conduct;
Material, intentional false statement, or deception or fraud in examination of the appointee;
Alcohol abuse, without evidence of substantial rehabilitation;
Illegal use of narcotics;
Knowing or willful engagement in acts or activities designed to overthrow the U.S. government.
What else will OPM consider?
OPM may also consider the following:
The nature of the position for which the person is applying for;
The nature and seriousness of the conduct;
The circumstances surrounding the conduct;
The recency of the conduct;
The age of the person involved at the time of the conduct;
Contributing societal conditions;
The absence or presence of rehabilitation or efforts towards rehabilitation.
Can suitability be challenged after appointment?
Yes! OPM may initiate a suitability action at any time. OPM is required to notify an employee in writing of the proposed action, and allow the employee to respond in writing. You are permitted to hire a lawyer if you are facing a proposed suitability action.
Successful suitability cases
We were retained by a recent college graduate who received a job offer from the federal government. On his suitability questionnaire, he honestly disclosed his prior drug use and arrest for underage drinking. The government found him unsuitable for federal employment. Our firm submitted a response, arguing that the client had been completely rehabilitated. He graduated from college with honors, was an excellent employee at his prior job, and had a new group of friends. We also emphasized that recreational drug use was very common among college-aged people. The government reversed its decision and allowed our client to begin his job.
U.S. Customs and Border Protection – A federal employee with over 8 years of federal service contacted us after she received a proposal to remove her from her position and the federal service due to a negative suitability determination based on allegations that she had engaged in misconduct/negligence in employment and dishonest conduct related to her disclosures in her job application. We submitted a written response demonstrating that she had in fact provided honest disclosures and many of the cited incidents were verbal warnings that did not require disclosure. Based on this submission, the agency reinstated her and determined that our client had illustrated that she did not commit the infractions alleged.
Peace Corps – A federal employee contacted us after receiving a proposal to terminate his employment as a result of an adverse suitability determination based on allegations that he made material, intentional false statements on his declaration for federal employment. We submitted a response to the proposal demonstrating that the employee misunderstood a particular questions and believed that he had responded truthfully on his declaration for employment. The agency overturned the adverse suitability determination and cancelled his proposed removal.
If you have questions about suitability determinations or if you are facing a purposed action, contact Alan Lescht and Associates today. Call us at (202) 463-6036, or send us an email.
Check back next week for a discussion of security clearances.