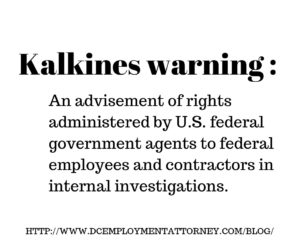 On December 18, former national security advisor Michael Flynn will be sentenced for making false statements to the FBI during questioning in early 2017, something he pleaded guilty to last fall. In seeking a lenient sentence, Mr. Flynn's attorneys argued that he was discouraged from having an attorney present during the questioning by FBI agents and that he was not warned of the penalties for making a false statement. While this sounds bad, it is actually commonplace in federal investigations, which is why we recommended important steps for any federal employee to follow if they are questioned by federal agents. Unfortunately for Mr. Flynn, he provides a good example of what not to do.
First, Mr. Flynn failed to contact an attorney. Based upon news reports and court filings, the FBI told Mr. Flynn that he could have an attorney present but the process would go faster if he did not because then the FBI would not have to include an attorney on their side. While probably true, there is no reason Mr. Flynn should have proceeded without legal representation. This was Mr. Flynn's first mistake. Had Mr. Flynn consulted with an attorney, the attorney could have advised him of to remain silent unless he was compelled to answer questions. The attorney also could have advised Mr. Flynn of the potentially severe penalties for lying to the FBI.
Federal agents, whether they are with the FBI or part of an Agency's OIG, know that they will get more useful information if they don't advise employees of their rights to counsel or right to remain silent. They may even advise you that seeking the assistance of an attorney will make you look guilty. It is also a common tactic to downplay the seriousness of the investigation or your role in it in order to put you at ease so you let your guard down. For those reasons, if you are contacted by the FBI or the OIG, no matter how "jocular" or "relaxed" they appear, and no matter what they say about the seriousness of the investigation, your first step should be to ask to consult with an attorney before answering any questions.
Second, as noted in the stipulated plea agreement, Mr. Flynn's interview with FBI agents in January 2017 was considered a "voluntary" interview. This is important because it reveals that Mr. Flynn failed to obtain a Kalkines warning before answering questions (a Kalkines warning guarantees that the employee's truthful answers cannot be used against them in a criminal prosecution). In Mr. Flynn's case, the FBI was obviously pursuing a criminal investigation and so it is unlikely that the Department of Justice would have agreed to issue a Kalkines warning. However, even if the government refuses to issue a warning, there are still two important reasons to seek it. First, it tells you that you are the subject of the investigation and they are likely seeking to discover information to bring criminal charges against you. Second, it confirms that the questioning is voluntary and the proper response is to remain silent and refuse to answer any questions.
Finally, Mr. Flynn's biggest mistake was being untruthful. Whether you voluntarily answer questions or are compelled, you cannot lie to the FBI without facing the risk of criminal prosecution. A Kalkines warning protects you from criminal prosecution based upon truthful answers but it does not give you immunity from making false statements. However, with a Kalkines warning Mr. Flynn may have felt more comfortable answering questions honestly knowing that this information could not be used against him in a court of law, and without one he would have known to remain silent.
How you navigate a federal investigation may determine whether you lose your job or end up in jail. If you are questioned by federal agent, do not make the same mistakes that Mr. Flynn made. Ask to speak with an attorney and refuse to answer any questions without a Kalkines warning. If you don't receive one exercise your right to remain silent, and if you do receive a Kalkines warning, be sure to tell the truth.