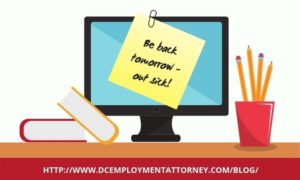 If you are an employee in Washington, D.C. you have additional Sick Leave protections afforded to you. Under D.C.'s Accrued Sick and Safe Leave Act, an employee who spends more than 50% of his or her time working in D.C. is eligible for some paid sick leave. The maximum amount of leave each year depends on the number of employees. The accrual rate varies between 1 hour per 87 hours for 1 to 24 employees to 1 hour per 37 hours for 100+ employees. Employees are allowed to use their accrued sick and safe time leave for reasons relating to mental and physical illness, injuries and health conditions of themselves or their child, parent or spouse, and for victims of domestic violence or sexual assault or stalking.
This Act provides protections separate from and in addition to those under the D.C. Family and Medical Leave Act (FMLA). The FMLA provides up to 16 weeks of unpaid leave but is only available until after 12 months of tenure on a job. In comparison, under the Sick and Safe Leave Act, employees start accruing leave on the first day of employment and are allowed to use this leave after 90 days of employment.
Two recent cases have upheld this law. In Stephens v. Farmers Rest. Grp., Defendants allegedly denied their employees sick leave and threatened to fire employees who complained about leave policies. 291 F. Supp. 3d 95, 119 (D.D.C. 2018). Defendants argued that Plaintiffs did not properly allege when they requested sick leave, alluding to the 90 day requirement before an employee can take leave. The Court dismissed this argument, holding that Plaintiff's allegations of denied sick leave was sufficient to move forward. Defendants also argued that the sick leave claim required individualized determinations, and thus was not appropriate for class certification. The Court dismissed this argument and granted certification of the class of employees affected by the leave policies.
In Alvarez-Soto v. B. Frank Joy, LLC, Plaintiffs asserted a violation of the Act. 2017 U.S. Dist. LEXIS 97772 (D. Md. 2017). Plaintiffs alleged that African American and Latino employees were prevented from taking their leave, while white employees were not. The Court denied Defendant's motion to dismiss, holding that such allegations were sufficient to support the inference that Plaintiffs were unjustifiably barred from taking their entitled leave. The Court also clarified that Plaintiffs were not required to plead explicitly that they complied with the notice requirements.
Both cases illustrate employee's success in gaining the sick days to which they were lawfully entitled to. If you believe you were fired for calling out sick or denied sick leave, Alan Lescht & Associates can help. Contact us at (202) 463-6036 or schedule a consultation.