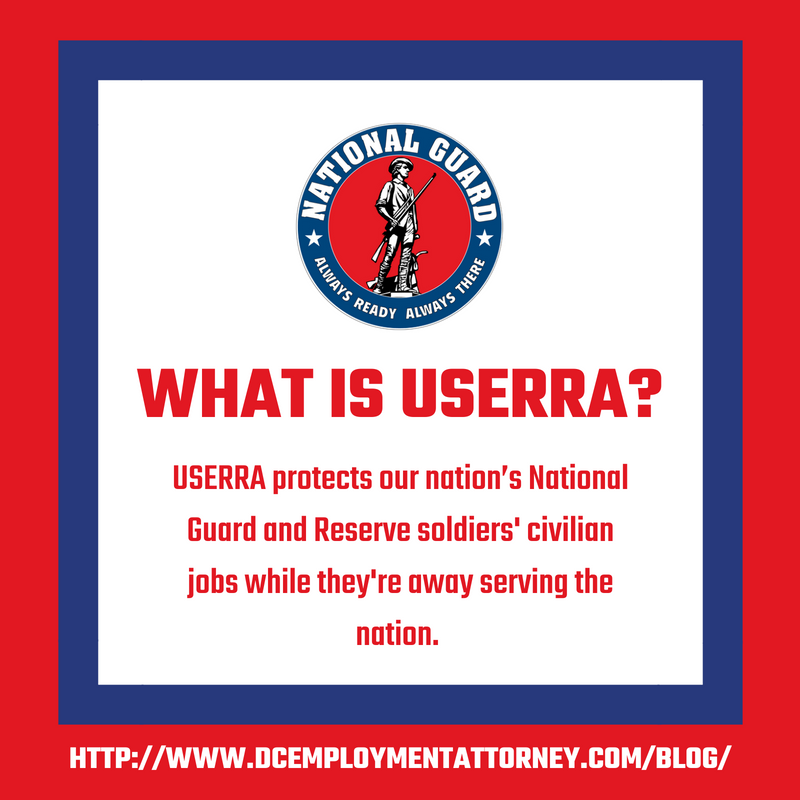 If you are a member of the National Guard or Reserves, a call to duty can be a challenging time both personally and professionally.  The good news is that federal law protects your civilian job while you are away serving your nation.  This will be the first in a series of posts regarding employment protections afforded to service members under The Uniformed Services Employment and Reemployment Rights Act of 1994, 38 U.S.C. § 4301, et seq. ("USERRA").
What does USERRA do?
USERRA protects our nation's citizen soldiers in two important ways. In this post, we'll describe the first major protection, related to discrimination, and in our next post we'll outline the reemployment rights of returning veterans.
First, USERRA makes it illegal for an employer to discriminate against an employee because of their military performance, status or obligations. This means that an employer cannot refuse to hire you, take disciplinary action against you, or otherwise deny you any benefit of employment because of your military service, including past or future obligations to perform military service. Employees who assist others in exercising their rights under USERRA are also protected from discrimination. Retaliation for exercising your rights under USERRA is also prohibited.
Some examples of discrimination include refusing to hire you because you may be absent in the future for military service, demoting or otherwise disciplining you for being absent for military service, or denying you any benefits because of your past or future military service obligations. "Benefit of employment" is liberally and broadly construed to encompass almost everything you would think of as a term, condition, or privilege of employment, and includes things like leave benefits, insurance coverage, bonuses, and even the ability to select work hours. In short, you should be treated exactly the same as other employees regardless of your past, present or future military service obligations.
Who does it apply to?
USERRA applies to nearly all employers in the United States, regardless of size, including private employers, the federal government, state governments and political subdivisions of states like cities and counties. However, certain employers, such as Indian tribes, religious institutions, the Judicial Branch of the federal government, foreign embassies/consulates and international organizations with diplomatic immunity are not covered.  The type of employer matters when it comes to enforcement of your rights, which will be covered in the next blog post.
USERRA provides reemployment rights and protections to any employee who is a member of, performs, has performed, applies to perform, or has an obligation to perform service in, a uniformed service. As an employee, you are protected regardless of whether you are a full time or part time employee, but independent contractors are not covered. If you are working overseas for an employer organized under the laws of the United States then you are also protected.  Additionally, applicants for employment are protected from discrimination in hiring.
If you believe you have been harmed by your employer because of your military service, you should contact an attorney knowledgeable in this area of law to obtain advice.