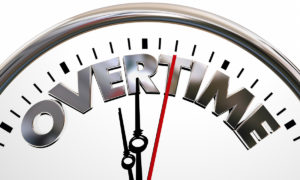 Are you working over 40 hours per week but not getting paid for it? Federal employees can recover overtime pay under both the Fair Labor Standards Act ("FLSA") and the Federal Employee Pay Act ("FEPA"). Even if your overtime was not expressly approved, both statutes may still allow you to recover overtime pay.
The FLSA requires overtime pay generally
The FLSA, which applies to private employers and the federal government alike, requires your employer to pay premium pay (1.5 times your normal pay) for all hours worked beyond the 40 per workweek. Certain employees are exempt from FLSA's overtime pay requirement, such as:
Exempt Executive: This applies to employees whose primary duty is managing a business or a subdivision of a business, who regularly direct the work of at least two other full-time workers, and who have authority or influence in hiring, firing, and promotion of other workers.
Exempt Administrative: This applies to employees whose primary duty is the performance of office or non-manual work directly related to the management or general business operations. The employee must exercise discretion and independent judgment with respect to matters of significance.
Exempt Professional: This applies to employees whose primary duty is the performance of work requiring advanced knowledge in a field of science or learning, acquired by a prolonged course of specialized intellectual instruction.
Don't be fooled by a position title. Whether you are a FLSA-exempt employee depends on your actual duties, not just your position title.
I'm FLSA-exempt, can I still get paid for overtime?
Fear not, federal employees. You can still recover overtime even if you are FLSA-exempt. The FEPA authorizes overtime pay for federal employees not covered by other specific statutes, with the exception of employees engaged in professional, technical engineering, or scientific activities.
What if I wasn't told to work overtime but did anyway?
Even if you weren't expressly instructed to work overtime, both statutes permits recovery under certain circumstances.
Under the FLSA, you can recover for overtime work that was "suffered or permitted." This applies broadly to situations where the employer knows or should have known that employees are continuing to work beyond the 40-hour workweek, and when the employer is benefiting from the work being done.
Similarly, the FEPA provides more limited recovery for work that was "induced" by one with the authority to order approve overtime, but not expressly directed.
Alan Lescht and Associates can help!
Our firm currently represents over 1,500 Border Patrol agents who allege they were required to work unpaid hours during the sequestration and corresponding budget cuts from 2013 to 2016. The agents are also seeking compensation for work they allegedly performed before their shifts and at home.  The case is proceeding in the Court of Federal Claims, the venue for claims for unpaid wages against the federal government.
Do you think you may be entitled to overtime pay? Contact Alan Lescht and Associates, PC, today. Call us at (202) 463-6036, email us, or visit our website. We represent private employees in DC, Maryland, and northern Virginia, and federal employees around the world.